F1Facility Booking System
Not Just a Facility Booking, It includes flexible set of related integrated tools such as Meeting Organizer, Email Template and visitor Management. Best suitable for managing enterprise facility such as meeting, conference room ,booking training facilities, parking spaces and pool cars,high cost equipments. the Facilities Booking module combines a rich feature set with ease of use.Features flexible Workflow on Approval booking / reject booking,Facility group,Facility type,Facility packages,adding refreshment items for meeting etc.
User Defined Reporting System, Delegation of Authority, Flexible & Mutiple Level Workflow, Workflow based on SAP HR OM, Email Notification, Customizable Email Template,Role Based Authorization, Multiple role per user, Single SignOn.
Functional Features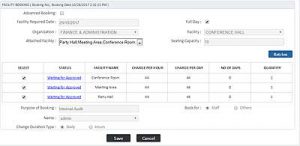 Web-based Facility Reservation System
Booking of Meeting rooms, conference halls, desk space, office space, auditoriums, high cost equipments, training facilities, refreshments
Workflow on Approval booking / reject booking.
Facility group
Facility Details info
Facility type
Facility packages
Facility booking
Floor plans
Approval booking / Reject booking
Mail Concepts
Reporting System
Configurable Reporting System
Graphical Analysis & Tabuler Report
Customizable Grouping, Ordering, Filtering
E-Mail, Printer, Screen, File
Report can be taken in Multiple Destination
Technical Features
Integrating to Windows Active Directory for Authentication
Enabling Single Sign-On
SAP Integration
Enabling Workflow Based on SAP-HR-OM
Role Based Authorization
Workflow: Multiple, Flexible, Approval Path
Delegation of Authority
User Sepcific Dashboard
Remainders & Escalation Procedure
Equipment & Contractor Upload
Help Library